Who Was Lieutenant Colonel John McCrae?

 "We have been in the most bitter of fights. For 17 days and 17 nights
none of us have had our clothes off, nor our boots even, except occasionally.
In all that time while I was awake, gunfire and rifle fire never ceased for sixty seconds…
and behind it all was the constant background of the sights of the dead,
the wounded, the maimed and a terrible anxiety lest the line should give way.
John McCrae, April, 1915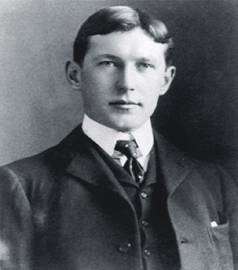 What war(s) did John McCrae fight in?
What did John McCrae do in the war?
What else is John McCrae known for?
John McCrae had a remarkable affinity for people and animals. His many friends and colleagues described him as warm and compassionate with very high principles.
In 1914 John McCrae was 42 years old and older than most WWI volunteers when he enlisted. In a letter to his mother McCrae wrote, "I am really rather afraid, but more afraid to stay at home with my conscience."
In 1915 he was given the rank of Major and appointed brigade-surgeon to the First Brigade of the Canadian Forces Artillery stationed at Ypres, Belgium.
John McCrae is best remembered as the author of iconic war memorial and Remembrance Day poem, In Flanders Fields however he accomplished a great deal more in his short life.
John McCrae fought in the Boer War and the First World War plus he was a physician, a soldier, a teacher, a poet, and a respected author.
In Flanders Fields Lesson Plan #4
Explore the Life and Accomplishments of John McCrae, Author of the In Flanders Fields Poem
PRESCRIBED LEARNING OUTCOMES
"Short days ago, we lived, felt dawn
saw sunset glow, loved and were loved"
Grade Level - K – 12:
Identify and explore the many events in the life of John McCrae and his role as a soldier, physician, teacher, author & poet (K – 12)
Gain insight into the story behind John McCrae's war medals and museum (K – 12)
Demonstrate an awareness of how John McCrae's love for the military & medicine were often at conflict during WWI (Grade 5 – 12)
TIME: This lesson plan may take 1 - 2 (45 minute) classes or can be edited as required.
OBJECTIVES Students will be able to:
Develop a deeper understanding of the events that shaped John McCrae as a person
Gain an appreciation of John McCrae's many accomplishments and the contributions he made
Demonstrate an awareness of the importance of preserving the memory of John McCrae as the author of the In Flanders Fields poem
Gain a sense of how dangerously close we came to losing John McCrae's war medals and his birthplace, (now the John McCrae Museum)
Construct a brief time line of John McCrae's life
INTRODUCTION & OVERVIEW
Although recognized as the author of the world's most beloved war memorial poem (In Flanders Fields), John McCrae accomplished a great deal more in his short life. This lesson will introduce the many other achievements of John McCrae and briefly explore the conflict between McCrae's love of the military and his love for medicine. Students will also explore the stories behind saving John McCrae's war medals and his birthplace, McCrae House museum.
BACKGROUND INFORMATION
John McCrae inherited his father's love of the military and along with medicine, the military figured prominently throughout McCrae's life. Explore the many other achievements of John McCrae. McCrae was the first student ever to be awarded a scholarship to the University of Toronto; was a soldier in the Boer War, was a member of the Royal College of Physicians in Britain; ran his own private medical practice; was a contributing writer of the textbook "Osler's Modern Medicine"; co-authored a textbook on Pathology; was expedition physician to Governor General Lord Grey's Hudson Bay canoe trip; plus, was the first Canadian ever appointed as Consultant Physician to the British Armies in the field.
Refer to Student Data Sheet #4 and John McCrae's Timeline in Appendix 3
MATERIALS NEEDED
Data Sheet #1A – IN FLANDERS FIELDS Poem
Data Sheet #4 – The Story of John McCrae
IN FLANDERS FIELDS music CD, CD player
Black Line Master H - "Complete the Timeline of John McCrae's Life" (5 – 12)
To purchase the Flanders Fields Educational Kit – 6 Lesson Plans for Teachers
visit the Download Lesson Plans page
Or
Download Lesson Plan #4!
Preview Who Was Lt. Col John McCrae?
Only $10.00
(Pay Pal)
Contact the Author
Please Email Flanders Fields Music for more information about:
Flanders Fields Song
Flanders Fields Video
Flanders Fields Sheet Music
Flanders Fields Educational Kit – 6 Lesson Plans for Teachers
© 2008-09 Flanders Fields Music