Bio of Anthony Hutchcroft
IN FLANDERS FIELDS Song Composer
Anthony Hutchcroft is a Canadian composer, writer and singer/songwriter who, on November 12th 2006, wrote the music for the song "In Flanders Fields", a musical interpretation of Lieutenant Colonel John McCrae's iconic First World War memorial poem.
Anthony has always been involved in the arts as a writer, performer, teacher and production manager for stage, dance, musical theatre and music. His work history also includes radio advertising, composing music for corporate videos and writing featured articles for news publications.
Since 1999 Anthony has been a successful freelance copywriter specializing in creating optimized web site content for business clients throughout the United States and Canada including a Fortune 500 company.
In 1996 Anthony and his wife Lily Kwidzinski acquired the Fraser Valley Academy of Dance and Theatre Arts Ltd, a dance and performing arts school. Anthony is also the percussionist, production manager and performer with for The Fraser Valley Youth Dance Theatre, which over the past two years successfully raised over $8500 for a program sponsored by the local Lions Club that assists underprivileged children in the community. Anthony lives with his wife Lily and their two sons, Austin and Gabriel, in Mission, a small community just outside of Vancouver, British Columbia, Canada.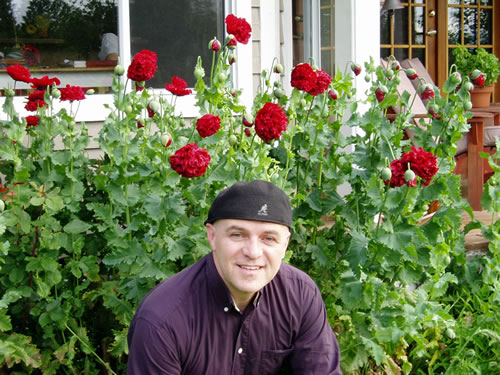 Self-Seeded Poppies
On June 11th 2007, seven months to the day after Remembrance Day, composer Anthony Hutchcroft posed for a photo in front of the flower bed just outside his kitchen window. It was the most amazing thing. The year before there was only a few rose bushes but for some reason, that year, the entire flower bed was full of "self-seeded" poppies!

© 2008 Flanders Fields Music