Flanders Fields Educational Kit -
6 Lesson Plans for Teachers
The IN FLANDERS FIELDS Educational Kit – 6 Lesson Plans for Teachers is designed as social studies curriculum support for grade school students.
Flanders Fields lesson plan units help educators to enrich the learning experience of students by actively involving students in Remembrance Day activities.
The Kit may also be used in music, dance and visual arts studies (the arts of war) plus for studies in military history, and war and peace. Flanders Fields lesson plans may be taught individually, in any order or chronologically as a series of lessons.
Lesson plan units also include Black Line Masters for student exercises plus Remembrance Day activities and crafts.
Flanders Fields Educational Kit Includes:
Teacher's Guide/ BOOKLET
CD that includes…
All 6 Flanders Fields Lesson Plans
Individual PDF files of all Black Line Masters
Vocal Version of In Flanders Fields Song
Instrumental Version
Karaoke Backing track of the Song
Remembrance Day Activities
Vocal Sheet Music
Additional materials & appendices
Order the Complete
Flanders Fields Educational Kit
includes CD & all 6 Lesson Plans for Teachers
Only $45.00(Plus$10 shipping)

Each Lesson Plan Includes:
Lesson Plan Overview
In Flanders Fields Poem
Lesson Plan Data Sheet /Essay
Teacher's Review Questions
Remembrance Day Activities/Black Line Masters
If you prefer to send
CHEQUE OR MONEY ORDER
Please make it Payable to: Anthony Hutchcroft
& mail to;

Flanders Fields Music
PO Box 3344
Mission, BC Canada
V2V 4J5
---
To Download Individual Lesson Plans as PDF Files
Visit these pages (only $10 each)
Lesson Plan #1 Story Behind In Flanders Fields Poem
Lesson Plan #2 Flanders Fields Poem Analysis
Lesson Plan #3 Inspiration for Poppy
Lesson Plan #4 Who Was Lt. Col John McCrae?
Lesson Plan #5 Story Behind Flanders Fields Song
Lesson Plan #6 Flanders Fields Song & Music Analysis
"I'm looking forward to using some of the material
for my Remembrance Day program, in particular your song.
Thank you for putting this package for teachers together."
Gayla W.
"My grade 4's are enjoying the material you prepared a great deal.
My colleague and I have taken a keen interest
in Canada's contributions to World War I and II.
In fact, our school has raised money to purchase 3 JunoBeach bricks
– my fellow teacher is responsible for this work
and she has really developed a keen interest
among the students for Canada's war effort.
Your work has further inspired us. Thank you so much.
Our Remembrance Day service will be richer thanks to your music."
Jeff T.
Download Flanders Fields Song
MP3 Version!
Only $2.00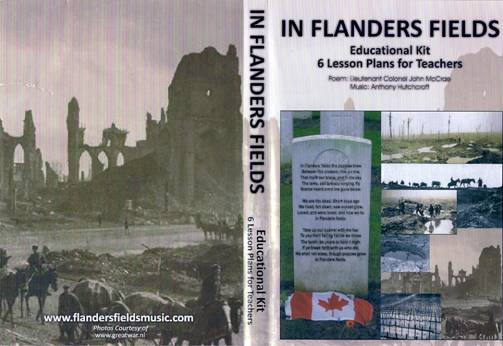 Contact the Author
Please Email Flanders Fields Music for more information about:
Flanders Fields Song
Flanders Fields Video
Flanders Fields Sheet Music
Flanders Fields Educational Kit & Lesson Plans
© 2011 Flanders Fields Music