Buy TRENCHES -
NEW 5-Song EP Release by Anthony Hutchcroft
January 28th, 2018 marked the 100th Anniversary of the death of Lieutenant Colonel John McCrae. He was 45 years old. McCrae is mostly recognized for his famous WW1 poem, IN FLANDERS FIELDS however; he was also a soldier, a physician, and a teacher.
This Remembrance Day, November 11th, 2018 will mark the 100th anniversary of Armistice, the end of WW1…the war to end all wars!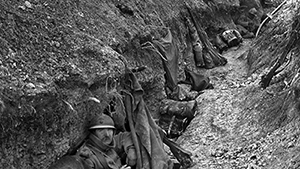 To commemorate the 100th Anniversary of both, musician Anthony Hutchcroft has recorded a new 5-Song EP (Extended Play record) that includes the following:
Trenches – New Song - About Life in the Trenches
In Flanders Fields Song (Re-Release)
In Flanders Fields Instrumental (With Horns Playing the Melody)
In Flanders Fields Voiceover – New Release! (Poem Recitation by Christopher Gaze)
Amazing Grace – New Release!
Anthony Hutchcroft's new 5-Song EP is ideal for teachers and educators who are looking for additional Remembrance Day Activities to engage their students.
The lyrics to the song Trenches are the actual words written in letters by WWI soldiers, or quoted from interviews the soldiers gave after they returned from the war. The raw descriptions of life in the trenches paint a vivid picture of the horrible conditions they endured and how it made them feel.
The In Flanders Fields Voiceover track features actor (and Bard on the Beach founder) Christopher Gaze reciting the poem In Flanders Fields over the music soundtrack by Anthony Hutchcroft.
The 5-Song EP ends with the song Amazing Grace. The lyric by John Newton, which is about forgiveness and redemption, was first published back in 1779. Since then, Amazing Grace has become one of the world's most recognizable inspirational songs.
Buy the Trenches 5-Song EP
For Download Only
$15.00 USD